Our investment philosophy to "Advance and Protect" is opposite of the "set it and forget it" approach to managing investment portfolios. We don't just tell you to stay the course and hope for the best. Of utmost importance is protecting your irreplaceable wealth. Our Advance and Protect process is aimed to intelligently and prudently manage your investments to pursue positive returns regardless of the market's inevitable twists and turns. We adjust our portfolios based on changes in our economic outlook and our assessment of the risk/reward trade-offs in the markets. The process monitors each portfolio component on a weekly basis and proactively adjusts as the market cycles evolve.
Advance and Protect Strategy
The Difference:
Unlike static buy-and-hold models, our Advance and Protect process involves proactive defensive positioning to preserve capital in falling markets, combined with offensive positioning in rising markets to participate in market growth. Our strategy relies on both quantitative and qualitative measures, rather than an exclusive reliance on favorable conditions in any particular market.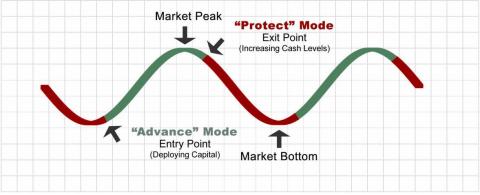 Common Sense:
Investing only works if you keep the profits, which is the basis of "buy low and sell high." In the last decade, many investors participated in the up markets, only to have their capital erode in the down markets. Our investment approach involves both a buy and sell discipline, to keep your hard earned wealth, by protecting in down markets, and growing in up markets.
No strategy insures a profit or protects against a loss. Investing involves risk including the loss of principal. Past performance is no guarantee of future results. Observed market movement may not persist in the future. There is no way to determine the "right" time to enter or exit the market. Signals for offensive/defensive action may be inaccurate.